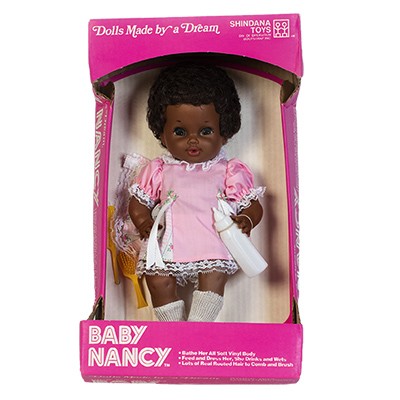 Inducted Year: 2020
In response to the Watts Riot, Louis S. Smith, II and Robert Hall worked with civil rights activists and community members to form Operation Bootstrap with the goal of empowerment and social and economic equity. In 1968, Operation Bootstrap launched Shindana Toys, a community-owned company dedicated to making toys that "reflect Black pride, Black talent, and most of all, Black enterprise."
In its first year, Shindana produced Baby Nancy. Smith advocated that the doll was not to be a white doll "dipped in chocolate" like many of her predecessors. Black sculptor Jim Toatley meticulously fashioned Baby Nancy's face mold to retain Afrocentric features, which was key, since some manufacturers had used the same production models for both white and Black dolls. Baby Nancy had a dark complexion, and her nose, mouth, and facial structure were designed to look Black. She was born amid the Black Power movement, Civil Rights movement, and Black Arts movement.
Newsweek described Baby Nancy as having "Negroid features and natural hair that drinks milk from a bottle and otherwise functions just like the white dolls peddled on morning cartoon shows." Shindana employees knew that Baby Nancy meant much more than that. The company exposed a long-standing desire for ethnically correct Black dolls that the mainstream market had failed to deliver. By Thanksgiving, Baby Nancy was the best-selling Black doll in Los Angeles, and before Christmas, production couldn't keep up with demand. Shindana had proved that consumers craved a doll like Baby Nancy and soon began national distribution.
Shindana believed that through the marketing of Black dolls and toys, "both Black and white children can learn to relate at an early age … and foster the spirit of love." Shindana ceased operations in 1983, but Baby Nancy stands as a landmark doll that made commercial and cultural breakthroughs.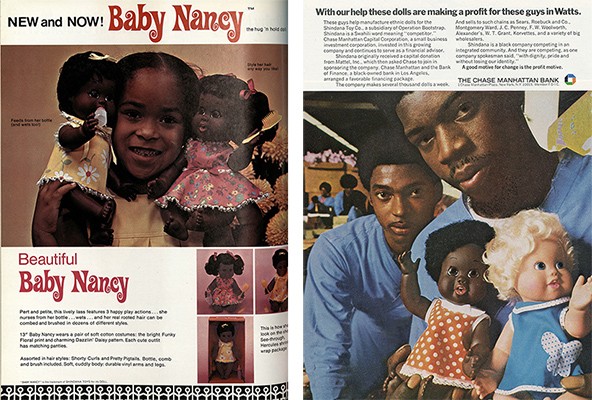 Factoyd: Shindana is Swahili for competitor.